The kitchen island is one of the hardest-working and most versatile spots in a home, employed for food prep, cooking, and family time. The design you choose for over the kitchen island not only adds a visual element to your kitchen, but provides a key layer to the functionality of the space. Here are some of the most frequently asked questions about lighting a kitchen island.
What should you keep in mind when you're coming up with a lighting plan for your kitchen island?
You want to select lighting that will complement the range of functions performed here, from chopping vegetables to reading recipes, to entertaining and family time. An optimal lighting plan provides the ability to control brightness for these various tasks while enhancing the overall design and providing visual cues about the central importance of this space in the kitchen. Also, make sure you have dimmers so you can adjust the mood.
What lighting works best for illuminating kitchen islands?
Pendants fit the bill for task and decorative needs, but people often go too small with them. Consider using two of these rather than one, and also think about a larger size to achieve a more upscale style. Clusters of smaller pendants—arranged in either a traditional line or clustered at various hanging heights—can create an impressive display perfectly scaled for the island. AntLux's flush mount puff light is great for this application and introduces a piece of art in your kitchen.
Pendants are clearly popular here, but what other design options should people consider?
For longer and deeper counters, you can try one or more large and linear chandeliers, such as the Linkable 4FT LED shop lights from ANTLUX. Another approach is to use a cluster of pendant lights, either pre-configured as a multi-light or hung separately.
What about recessed lighting?
If you don't want anything hanging over your island, recessed lighting works perfectly. It offers a more concealed light source, while maintaining the appropriate illumination for all tasks. A good recommendation is the ANTLUX 4FT ultra slim LED shop lights.
However, it's good to think of your lighting plan three-dimensionally, and ways to layer it. Recessed lighting will provide continuous illumination across the kitchen while helping to highlight any decorative fixtures over the island. If the pendants are shiny, complementing them with recessed lighting will help show off the design.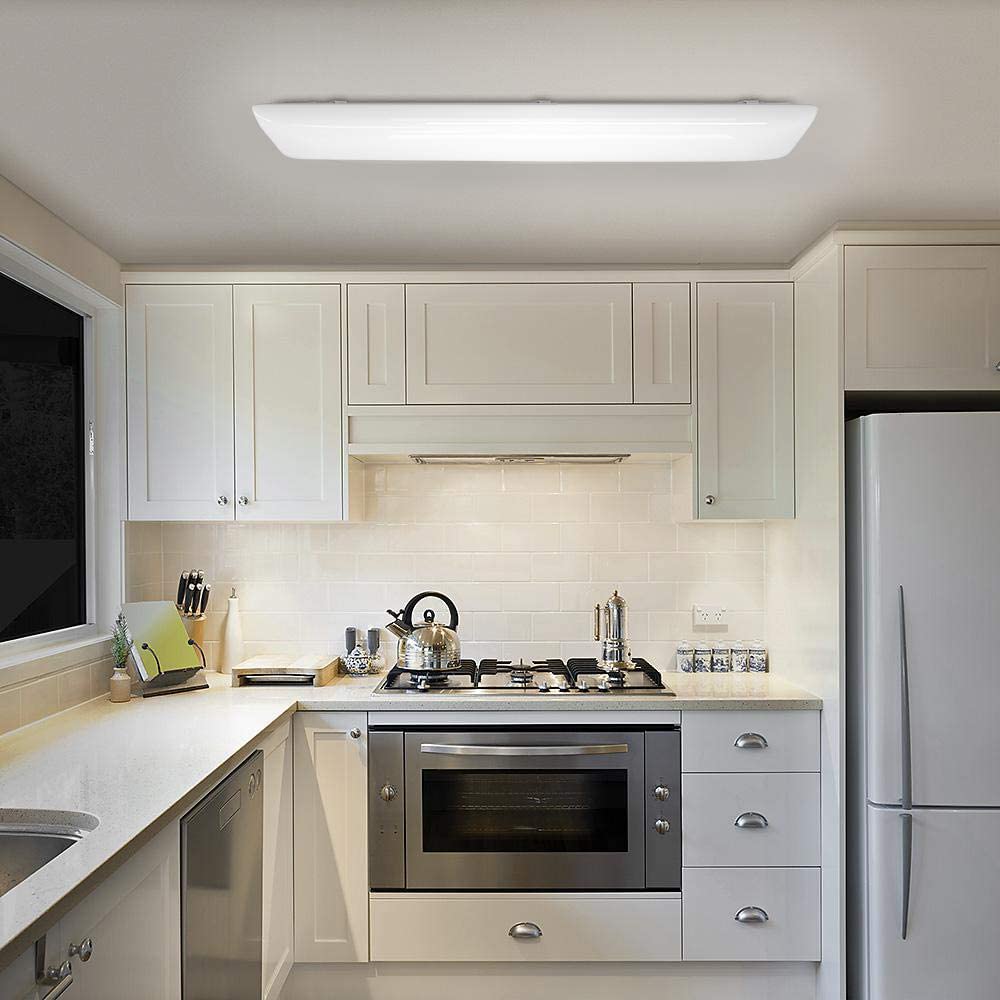 What about LEDs for kitchen island lighting?
We're partial to LEDs, and with the technology providing directional illumination and higher lumen output decorative chandeliers and pendants can now be utilized over the kitchen island for task lighting.
What is the proper height to hang kitchen island lighting and where do you position it?
The rule of thumb is to suspend a hanging light 28 to 34 inches above the island. As for positioning, centering the lighting is most common and offers even light distribution. If it's not centered you have to be sure you have adequate lighting on the surface from other luminaires.
Any advice on picking the right bulbs, in terms of wattage, brightness, warmth versus coolness, and so on?
LED luminaires are the most effective as they keep wattage at a minimum while delivering the high lumen output needed for task lighting. As a point of comparison, 50 incandescent watts is comparable to around 5500 lumens of unshielded light from LEDs.
For a typical kitchen, you would go with a warmer color temperature such as 4000K, as this will create a more welcoming feel. If you have warm wood tones in your kitchen, go lower; for cooler colors, pick a bulb that's higher in that range.
Equal parts decorative and functional, kitchen island lighting is a key design element of any kitchen. Choosing the right fixture(s) will make your kitchen ready for any task, any meal and any guest.
For many people, the kitchen is the hub of the home these days.
"That's why it has to be functional, comfortable—and tied together with the right lighting," says San Francisco–based interior designer April Powers. With more than 20 years in the industry, Powers' contemporary-yet-timeless design work includes custom, high-end residences, restaurants, boutique inns and more, and has been featured in Architectural Digest and other publications.
We tapped her expertise to round up seven essential tips on how to light a kitchen—below, her rules to live and cook by:
1. The kitchen has become more than just a space for food prep.
Whether you're throwing a party or just entertaining a few guests, everyone ends up hanging out in the kitchen. "It's important that the lighting is both task-oriented as well as ambient and friendly" says Powers. "Avoid anything overly bright." Plus, this all-important touch: "All fixtures should be dimmable so the light can be adjusted to meet specific needs—since so many kitchens are located directly off a great room, it's nice to be able to lower the lighting levels once the food prep is done."
2. Obey the rule of 3 levels of light: Down lights, under-cabinet lights and pendant lights.
To achieve that proper mix of task and ambient lighting, you'll want to light at different levels: down lights (also called recessed), under-cabinet strip lighting, and hanging lighting. "Wattage can vary based on the space, but typically, MR16 Halogens or LED lamps are used in the recessed fixtures, LEDs for strip lights, and incandescents for pendants." As for bulb color temperature Powers usually opts for warm, golden tones.
3. Recessed lighting is your friend.
Recessed lighting in the ceiling is best for general room illumination and combats glare and shadows. Its especially useful in hard-to-light and transitional areas.
"I like the Tesla 2" High Output LED 0-30 degree Adjustable Reflector because it has a small aperture so you're not punching an enormous hole in the ceiling" says Powers. They can also be used in transitional areas and areas of circulation, like walkways, and the space between the island and kitchen sink." Plus they're great for task lighting high-use areas.
4. Undercabinet lights aren't just high-end frills.
AP: For task lighting over countertops, Powers often uses LED strip lights. They're typically mounted behind the fascia board at the front of the cabinet, so they're hidden from view and not shining in anyone's eyes, but the light is directed down on to the counter. For the ultimate in under cabinet systems Powers suggests Legrand's Adorne Collection, which allows you to hide outlets and USB ports as well as light your counter.
5. Pendant lights should hang about 40 inches above an island or table.
"[Pendant lights] provide light at a lower level in the room than recessed ceiling fixtures, which allows for more balanced overall lighting and some stylistic and visual interest," Powers says. She prefers pendants to hang "approximately 40 inches above the island or tabletop so they're not in the sight line of the average person standing or sitting in the space." Powers says a good option for the dining area is a dark drum pendant, which will direct the light more specifically onto the table surface and the ceiling above. "It creates a more moody effect than a typical fixture that glows from all sides."
6. If your kitchen is already flooded with light, focus on accent lighting and consider open shelving.
If you're lucky enough to already have a well-lit kitchen, "one idea is to float shelves, use open cabinets, or cabinets with glass doors, and mount LED strip lights in the back of the shelves" says Powers. "This creates a wash of light at the back cabinet wall that highlights the objects on the shelves."
7. When it comes to hanging lights from the ceiling, less is more.
Powers kitchen lighting pet peeve is too many lights hanging from the ceiling. "I typically tend towards having only one hanging-style fixture in the kitchen, whether it's a pendant over an island or eating area, or a pot rack with integral down-lights over an island or cooking area." She prefers an either/or approach, as two competing hanging lights leave the ceiling plane feeling cluttered.
AntLux's 4ft led light fixtures provide high performance, long lifespan and energy savings for general purpose use. Our 4 foot led kitchen fixtures provide you more brighter, durable and high efficiency lighting than traditional fluorescent tubes. A step up from led puff light is not only in light but in look. It is the perfect energy-saving replacement for both remodel and new construction applications in residential and commercial needs.